MACHINE #2: DELL DIMENSION XPS-R1400TC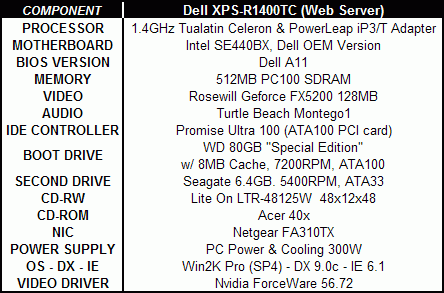 Yeah, I know--there's no such thing as an "XPS-R1400TC", but the designation seems appropriate, now that it's powered by a 1400MHz Tualatin Celeron! This machine started life as an XPS-R400 in August 1998. At the time it was ordered, it was Dell's top-of-the-line model. It's been a GREAT machine, but that was the last time I'll drop three grand on a PC, I assure you. With a few exceptions (case, motherboard, modem, ZIP drive, floppy, & monitor), everything in it has been upgraded since that time. It's on its tenth different video card, mostly because I'm kind of a 3D graphics junkie. Three of these were 3dfx "Voodoo" cards of different types, which eventually lead to "Duh Voodoo Man" nickname (semi-long story). This mundane reality will probably disappoint some of you who were wondering if I cut the heads off live roosters or stuck pins in dolls. In any case, the video card saga on this machine has pretty much run full circle. Now that its function is as a webpage server (see below), it's got an Nvidia Geforce FX 5200 AGP card in it these days. Modest, but perfectly serviceable for this use!
This was my personal machine for nearly 4.5 years, and reliably performed a wide variety of tasks during that time, including A LOT of 3D gaming. However, with its replacement in that role in late 2002, this faithful old unit was pressed into a new service:
Somewhere along the line, I decided it would be fun to run my own web server. After checking with my cable ISP (Road Runner) and finding out that they actually allowed this sort of thing, I scrounged around at work and managed to dig up another homebuilt "BX box" to recommission as a server. After setting it up with Windows 2000 Professional, I ran it for about 8 months, with generally good results. However, the OS installation showed some occasional instability (BSOD's and some very weird behavior with my cordless optical mouse), so I decided to replace it with the trusty XPS-R. With a clean install of Win2K Pro and Apache Server 2.0, this PC has run very well, and has been online 24/7 as my web server since just before Christmas '02, with only occasional brief shutdowns for "preventive maintenance". No BSOD's or flaky mouse behavior--just rock-solid reliability!
A comment on server software: When I set up my first server, I used the MS Internet Information Services (IIS) server functionality built into Win2K Pro. However, I ended up dumping IIS in favor of Apache Server after finding out that the Win2k Pro version of the former had a built-in limit of ten simultaneous connections and people were getting shut out of the website. Ah, the burden of fame & popularity....
One other item of interest on this machine: Since I have it in the same room with my personal PC and nobody uses either machine but me, I couldn't see investing the money or giving up the space for another monitor, mouse and keyboard. So the obvious solution was to go with a KVM switch. Back when I was running a CRT monitor, I started off with a Linksys 2-port VGA/PS-2 KVM switch that handled this duty nicely. More recently, with the upgrade to an LCD monitor, I moved to a Linkskey Model LDV-002ESK DVI KVM switch, to be able to use the higher quality digital input mode of the display. The DVI-based KVM switches are a bit more expensive than the VGA-based models (the Linkskey ran me about $100), but this is still far cheaper than a second LCD monitor. Works like a charm!
But, hey, we're just gettin' started....
MACHINE #3: HOMEBUILT ASUS A7N8X nFORCE2 & MOBILE ATHLON XP 2500+
This is the first PC I ever built with an AMD processor (May '03), and it became quickly obvious to me why these processors were so popular among home builders & overclockers. Not only were prices much lower than for an Intel-based machine of comparable performance, but the ease and extent of overclocking was truly impressive. The configuration details of this machine and a few benchmark performance numbers are shown at right. Initially, I installed a Thoroughbred-B core XP 2100+ in this new PC, but in early October '03, I upgraded to the newer "Barton" core Athlon XP 2500+ processor. And in April 2005, this PC inherited the Mobile XP 2500+ chip that had been in my personal machine. Though originally developed for use in laptop PC's, the Mobile Athlon XP's rapidly gained popularity among home system builders for two main reasons:
Their clock multipliers aren't locked, enhancing their overclocking flexibility substantially. As mentioned above, this is no longer true for the newer standard Barton-core processors, where the only way to overclock is by dialing up the front-side bus frequency. This makes achieving optimal CPU and memory performance more difficult.



They are basically "cherry-picked" Barton XP's that will run stably at a reduced voltage setting (1.45V) that helps keep heat generation down when used in laptops. The benefit here is that, with the higher voltage settings used in the standard Barton CPU's (1.65V), these processors become great overclockers, routinely making 2400MHz (equivalent to "XP 3500+" speed), and sometimes going as high as the 2600 - 2800MHz range, with elevated core voltage settings.
Using a core voltage setting of 1.80V, I've attained stable operation at 2400MHz for this CPU. Not bad for for a processor that could be purchased for less than $90! But extra voltage means extra heat, so I've also upgraded to one of the better heatsink/fan units currently available, the ThermalTake Extreme Volcano 12. This large cooler features an all-copper vaned heatsink and a unique three-bladed fan that can be controlled with a supplied rheostat to run between 2000 and 5500RPM. At the latter setting, it's only slightly less noisy than my daughter's hair dryer, but fortunately, it's rarely necessary to crank up the fan that high. A setting in the range of 3000 - 4000RPM seems to give a nice balance between noise and cooling efficiency.
With the FSB at 200MHz, setting the memory to run synchronously allows the full potential of the two matched sticks of 512MB Mushkin Black Level One PC3200 DDR RAM to be achieved in concert with the nForce2 board's dual-channel memory bus. The combination of overclocked processor and memory bandwidth galore yields some very respectable benchmark numbers, as can be seen in the data table at right. 3D horsepower is currently provided courtesy of an EVGA Geforce 6800 AGP 128MB video card.
So Dad and son are nicely squared away, but the WOMEN of the house need decent machines, too....